Photo and Video Buying Exchange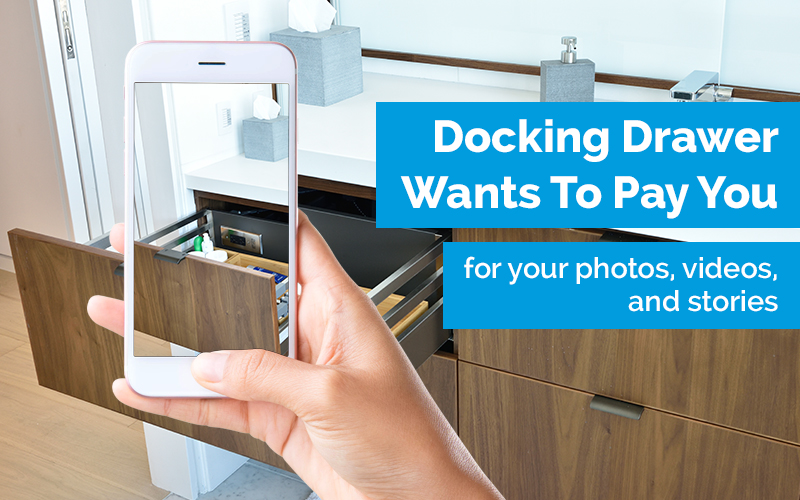 Calling all Docking Drawer Customers!
Docking Drawer wants to pay you for your photos, videos, and stories.
How it Works
We make Smart, Simple and Safe outlets so our photo buying program is Simple.
Review the Docking Drawer Photo Exchange.
Take pictures or videos of your Docking Drawer installation.
Submit your photos or videos via our Photo Submission form below.
In 5 days, we will evaluate your submission and make you an offer for your photos based on the Docking Drawer Photo Exchange.
Your store credit or gift card will be sent by email within 14 days of offer.
Are you a Brand Influencer, check out our Docking Drawer Brand Influencer Program.
Docking Drawer Photo and Video Exchange
Our photo needs are constantly evolving, so just like a stock exchange, the more demand for a type of photo, the higher the value.
Before and After

Price $250

Nothing makes an impact like a good before and after photo. Take one shot with a messy counter full of cords, and one photo with all your tech tucked away into a Docking Drawer.

Installations

Price $250

Believe it or not, we don't have enough behind the scenes footage of our outlets. Send us your best installation action shots, sawdust and all!

Kitchen Drawers

Price $150

Turn that kitchen junk drawer into a smart and functional charging station. Make sure to review our shot list below for some tips on how to maximize your earnings!

Vanity Drawers

Price $250

Capture the ultimate vanity complete with a powering drawer. We especially like stylized salon pull-outs with hairdryers, curling irons… the works!

Vertical Organizers

Price $250

Oh, the places a Docking Drawer can go! Show us how you use these streamlined vertical drawers. Is it in a kitchen, a bathroom, your office, or studio?

Closets

Price $200

The modern closet is much more than a place to store your clothing. Showcase your custom closet and how you organize your personal space.

Professional Photo Shoots

Price $250

We can never pass up a beautiful, professional shot of one of our outlets in action. Please make sure you have the photographer's rights before submitting this type of photo.

Videos

Price $250

If a picture is worth a thousand words, then what is a video worth? These can be installation videos or a finished product showing your Docking Drawer in use.

Other Applications

Price $150

We love seeing Docking Drawers in all kinds of furniture. We're talking consoles, nightstands, butler pantries...the sky is the limit! This is your chance to think outside of the drawer.

International Outlets

Price $310

International friends, show us how you Docking Drawer! This includes UK, Australian, and European outlets.

Pricing

Pricing is per submission (Collection of images submitted per category. For example, if you submit Installation photos and Closet photos, you would be compensated for both submissions)

Max Payout is $500

Pricing is effective 11/1/2019 and pricing is updated on the first of every month.

Not available to Docking Drawer Brand influencers.
Tips for Taking Great Photos of your Docking Drawer Outlet
Please see our

Shot List

for some great tips on capturing Docking Drawers in action.
---
Photo Submission Form
Before you Submit
Follow Docking Drawer on Instagram to confirm your entry.
Make sure you have the authority to transfer image rights to Docking Drawer.
---
Rather talk to us about Docking Drawer purchasing your photos? Call us at (530) 205-3625
---
---